Flower Hill Design is going through a small transformation! You may have already noticed some changes around here.
Over in my side bar you'll find a new blog button. Feel free to grab one.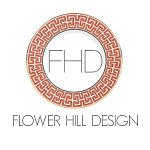 And there's more to come.

Stay tuned for new Flower Hill Design Series, Portfolio Pages, Projects, Link Parties and Giveaways!